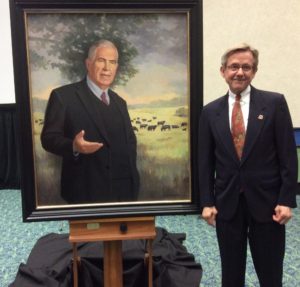 In addition to portraying cardinals, governors, prominent lawyers and doctors,  and philanthropists, over the years Richard Halstead has created 23 paintings of the leaders of the American livestock industry.  With Halstead paintings in the collections of the National Portrait Gallery, state capitols and universities, Richard's paintings are also part of an unusual special collection. Legendary breeders of beef cattle in Scotland in the late 18th century, outstanding early and modern educators in animal husbandry, and current leaders in livestock production have been honored by their induction into the collection of portraits of the nationwide Saddle & Sirloin Club.
Believed to be the world's largest portrait gallery commemorating a single industry, the portrait collection was established at Chicago's Union Stock Yards in 1903 and is a somewhat unexpected example of the tradition of portrait painting providing a compelling visual component of the history of livestock development, especially in the Americas.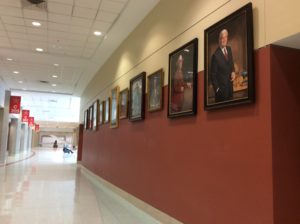 Each year a leader who has made a major contribution to the industry is selected for this award. In 2017 Angus beef cattle leader Tom Burke was honored and Richard completed his portrait for its unveiling in conjunction with the North American International Livestock Exhibition in Louisville, KY, in November 2017.
The Kentucky Exposition Center houses the entire collection and some of the most recent portraits by Richard are on permanent display.