About Richard Halstead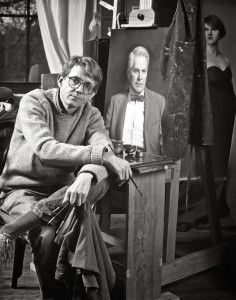 Artist: Mr. Halstead is a nationally recognized portrait painter and teacher who has been working in both oils and pastels since 1970. His portrait of Joseph Cardinal Bernardin in the National Portrait Gallery of the Smithsonian Institution, "demonstrates the gentleness and strength, the character and depth of this great churchman," according to Bernardin's private secretary, Monsignor Kenneth Velo.
Teacher: Given his renown as a portrait artist, it is surprising that Mr. Halstead is equally exceptional as teacher. He's the exception to the old maxim, "Those who can, do, and those who can't, teach." Mr. Halstead's students typically describe him with words and phrases such as articulate, giving and intuitively smart. He is extremely generous with his time and knowledge because he takes his job of teaching very seriously, wanting to do right by each student. He will share everything he knows about drawing, painting, and seeing, while at the same time guiding students around the confusions and frustrations that inevitably arise while learning.
Prior to teaching group and private classes in his Evanston studio, Mr. Halstead taught at The American Academy of Art in Chicago, Ontario College of Art, and Prairie State College.
Collection in Which His Work is Exhibited
Illinois State Capitol Hall of Governors, Springfield, Illinois
Yale University, New Haven, Connecticut
University of Melbourne, Melbourne, Australia
University of Toronto, Toronto, Canada
University of Kentucky, Lexington, Kentucky
Dartmouth College, Hanover, New Hampshire
Children's Memorial Hospital Research Center, Chicago, Illinois
Episcopal Diocese of New York, New York
New York Saddle and Sirloin Club, Louisville, Kentucky
American Academy of Art, Chicago, Illinois
Rush-Presbyterian-St. Luke Medical Center, Chicago, Illinois
Selected Portrait Subjects
Ambassador James Collins, Ambassador of the United States to the Russian Federation (1997–2001)
Joseph Cardinal Bernardin Roman Catholic prelate, Archbishop of Chicago
George Ryan Governor, State of Illinois
Mitch Daniels Governor, State of Indiana
Marshall Field V President, Field Enterprises & Chairman, Board of Directors, Art Institute of Chicago
Dr. Steven Beering President, Purdue University
Dr. Harrie Vanderstappin Chairman, Art History Department, University of Chicago
Justin Stanley President, American Bar Association
John Baird President and Chairman, Baird and Warner, Inc.
Archibald McClure Senior Vice President, Quaker Oats
John Foster President, Joseph T. Ryerson & Son/Inland Steel
Oran Little Dean Emeritus, College of Agriculture, University of Kentucky
Jack Ragsdale President, North American International Livestock Exposition
Royce Abbey President, Rotary International
Reverend Mark Sisk Episcopal Bishop of New York
Dr. Bernard Mirkin President, Children's Memorial Hospital Research Center