Spring 2020 (Jan. – Mar.) Session Registration
Portrait Drawing & Painting Class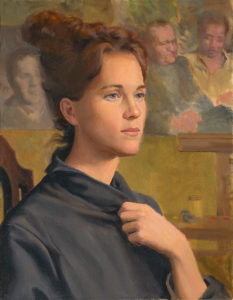 Wednesday Classes
Dates: Apr. 1 – Jun. 24.
Time: 9:00 a.m. – 12:00 noon
Tuition: $468 (13 classes)
Saturday Classes
Dates: Apr. 4 – Jun. 27.
Time: 9:00 a.m. – 12:00 noon
Tuition: $396 (11 classes)
Please note: no class Sat. Apr. 11 (Easter weekend) and Sat. May 23 (Memorial Day weekend)
Combined Saturday and Wednesday Classes
For enrollment in both Saturday and Wednesday classes, combined tuition is discounted to $800.
Registration
Please print out and complete the registration form. Write a check for the full tuition payable to Richard Halstead. Then mail both to Richard Halstead, 3320 Culver St., Evanston, IL 60201.
Studio Location
1316 Sherman Avenue, Suite 216, Evanston, IL 60201 – just north of Dempster on the west side of the el tracks. The Dempster el/CTA station is right around the corner.
Deadline & Cancellation Policy
Registration deadline is March 20 but capacity may be reached prior to that date. To guarantee your space please enroll as soon as possible. Additional students may be enrolled on a space-available basis after the deadline. Cancellations for a full refund are available until March 25. Please Note: No refunds will be given after that date. If the minimum enrollment is not reached by March 20, the class may be cancelled.
Make-Up Classes
Make-up classes are available, if space permits, during the same term in which the classes were missed. Students who observe religious holidays requiring an absence from a scheduled class may deduct the cost of that class ($36/class for Spring 2020 classes) from their tuition. Please note on your check if you take a religious holiday deduction. Deductions are not offered for any other reason.
Requirements
An eagerness to learn and your own art supplies. People of all ability levels are welcome.
Course Description
Mr. Halstead explains basic methods of drawing and painting in a "nuts and bolts" manner and with the goal of helping each student tailor-make a hybrid method that suits the student's natural way of working. In one-on-one conversations and occasional, brief class lectures, Mr. Halstead guides students in the use of tonal values (the gray scale) to create the illusion of form and space as well as balanced, effective compositions. He also teaches color in a practical rather than theoretical manner, providing basic color combinations for flesh, instruction in the manipulation of warm and cool colors in relation to each other, and information about how colors interact when they are mixed. Students work from models.
For More Information
Contact Richard Halstead at richard@halsteadportraits.com or by phone (847) 869-6560. (You can fill out form below online, but must print out to submit by mail.)
---
**Due to the prevalence of chemical sensitivities and the enclosed nature of the classroom, Damar varnish, cobalt driers, turpentine, and all other thinners except Turpenoid are prohibited.
REGISTRATION DEADLINE: Enrollment closes when classes are full. Capacity: 9 students/class.